Good day, everyone! My name is Becky Lynch and I'll be your journalist for the month of January.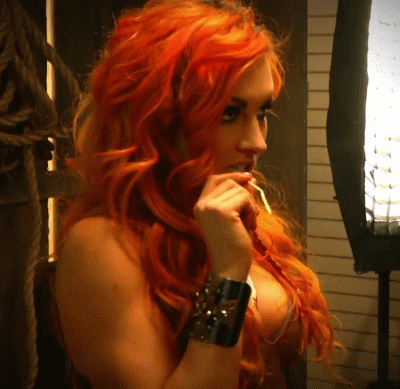 Welcome to our Garage Interview. Here we meet some of the most unexpected pornstars in our virtual world. This month, we have the pleasure to talk to Analis.
1. Hi! How are you? Please tell us your username, and the servers you play on.
Tell us - what motivated you to choose the name and server(s) for your star?
Hey. I'm quite fine. I play Analis on UK2. Only her and only there She's seriously time-consuming, so unless a new server would pop up: that's it! And the username is a pornified pun on my real name. And thx for making me Miss January!


2. How did you start playing Big Bang Empire? Did you hear about the game from your friends, or maybe an advertisement?
I was playing some idiotic flower gem collecting game and saw an ad for BBE.
The graphics and atmosphere pleased me so I played a little over there but jumped to UK2 as it was a user-friendlier server.

3. When did you start to play Big Bang Empire?
On June 14th of 2016, now a little over 6 months ago.

4. Who's your favourite pornstar? (i.e. Clara Morgane, Katsuni, Evan Stone)
I don't know too many, to be honest. But you have to love Stoya, for being expressive AND literate.


5. Do you remember your first days as a "noob" in Big Bang Empire? Tell us something!
Way too well! My first "days" as a noob took some weeks actually, until I reached like lvl 75. Before that I just kept refining and washing my very very crappy outfits time and time again, in a stubborn assumption that it would make my character better somehow. Which it didn't of course. To make matters worse, I wasn't even aware of how the first refinement and washing machine of the day were free, so for days on end I wouldn't use the free spins, while on other days I would just keep washing and refining over and over again until my saved diamonds were spent.
Everybody is an idiot at times, but I added being stubborn at it. I still AM stubborn but at least sometimes less of an idiot. It was only when I joined the Little Devil Delights studio that I actually started thinking about how to be any good at this game. With good advisors nearby, I gradually started playing my own game, made a tactic on how to "overcome" my late and flawed start and tried not to look back in shame.

6. What are your tips for beginners?
Seek good company, join a studio and have some fun!
And if that studio doesn't work out for you, don't waste time there and move on.
Don't be afraid to ASK for an invitation to a studio. In my time here I've been only invited twice.
Strategy-wise: don't focus too much on gaining level and strength. You'll end up short.
Try to focus on being as good as your level allows you to be. Don't rush it. Build slow but steady.
You won't be able to beat higher lvl missiles, so invest in ways of going around them (charisma, finesse, dueling refinements).
And most of all: THINK about how you want and need to spend your diamonds. That's key. Plan it out and save some.

7. You are one of the top players in Big Bang Empire. What is the secret of your success?
I take steroids and use the allowance of my filthy rich parents to buy a 50.000 diamond pack 7 times a week.
Apart from that… I only hunt skill points and notes. I don't bother with exp as I think it's a waste of effort and time.
Items I usually sell right away - unless they're +90. The notes for those can be invested in way more permanent base skill points.
In the end I'm all about that base. Not level. The only downside is eventually having to cough up 250.000 notes for a single skill point.
For the rest I just squeeze every drop out of the game: using all available energy, conventions, parties, duels, minigames, collections…

8. Your star is one ranked with top glory. Can you advise us in how to choose our duels?
Be aware of your own build. Test it out. Probe some people. Watch and learn from the fights you give ànd receive.
Focus on the defeats you suffer and try to figure out what could make you get better than the one beating you up.
When you refine, keep a lookout for smelling salts, spanish fly, applied lube, spurring knobs, metal spikes, eau de toilette and plastic balls.
Furthermore, if you are higher in charisma and finesse than your opponent but make about 10 to 15% less total damage: just go for it.
And most important: if possible, attack every time your courage has filled up enough for 1 hit. Don't wait to be able to make 10 hits in a row.

9. Is there something you'd specifically like to achieve in the game?
My "late" arrival in the game has made me feel like a little bit of an outsider vis-a-vis the happy high few.
No matter how high or far I get in this game, I will always lag and drag behind the big kahunas by half a year.
I used to see that as a weakness, but grew to consider it as a motivation: I want Analis to be less than no-one, apart from level.
In my eyes, the best way to accomplish that, is getting an ever higher ratio in stats-per-level (total stats divided by level).
I am currently at around 135 in total statpoints per level. I would like to get that up to 150.
I may never have the strongest character, but perhaps the one that's been built best.

10. In your opinion, what is your greatest achievement so far in Big Bang Empire?
I used to think it was getting in the glory top 10 below lvl 200 AND even at a lower level than Zaria (who nailed that first - respect!).
Then I felt it was being able to actually stand my ground in that glory top 10. Then it was getting into the top 5 there. Then the top 2.
I've also won 4 or 5 Big Bang Awards and 6 conventions. Of those I'm also quite proud.
What else… The 3 defensive victories I had vs. Emara also made up for the like 300 losses.
But I do think my finest achievement has simply been getting to understand how the game works.
Knowing what you can do to make better conventions, getting party tickets and good Temple ratings…
I think that has been my greatest achievement, as it is something I've been able to share with my studio.
And there's nothing nicer than to be "of use" to friends and fellow freaks.

11. Have you set any particular goals to achieve?
- having completed all the item collections (21 out of 24 so far).
- having ascended the Iron Throne with my dragons within sight #teamtargaryen.
- nailing all 818 currently existing "successes" (478 so far) because I can be a bit of a perfectionist.

12. Name up to three players next to the following descriptions:
• Best players (based exclusively on their ability as players, not i.e. their personality):
- Zed12 for being an excellent mentor who saw the potential in Analis when she was still looking like a crackwhore.
- BeckyLynch for being the first to reach lvl 300 ànd being built like a friggin goddess.
- D2016 for doing what he does with his studio without asking for accolades.
• Opponents you respect the most (sorry but more than 3, I've fought with most if not everyone in UK2):
Donatela, JasonXXX, Siobhan69, Gigi71, Zaria, Kurana, pleas3 and Jenna21.
For actually fighting back when I was trying to pass them by. Competition brings out the best in me.
• Favourite forum members (if you are a registered forum member):
- My interviewer for always being kind and TaraBing for using bright colors.
- Gigi71 for always making sense and Lozenges for speaking English no matter the accent.
13. Is there any message you'd like to send the Big Bang Empire community?
Do not care about what anyone else is doing: make and play the game the way you want to.

14. Describe Big Bang Empire in three words.
Fun. Ridiculous. Addictive.
And thx a lot for the interview!
Thanks a lot for your time Analis. I hope you will keep playing and enjoying the game. Best wishes from the team!